25 Nov

Why a Reliability Culture Matters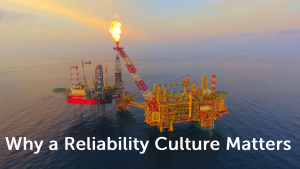 Reliability matters because humanity continues to depend on wealth generated by highly complex machines, automated business processes as well as the growing dependence on uninterrupted supplies of energy as well as transportation systems such as aircraft, ships, trains of which depend on the continued integrity of these physical assets.
In an ever-increasing competitive global market with rising costs and complexity, corporate suites and managers are seeking strategic frameworks to synthesise new developments to transform information into knowledge to create competitive edges, thus adding to their bottom lines. Reliability is a strategic imperative to any asset-intensive industry and the cornerstone to operational excellence.
According to Emerson:
"Those companies operating in the top quartile of reliability performance, when benchmarked against the average performance of their peers, enjoy 4% more availability, at half of the maintenance cost (as a consequence, not an action), and typically have a better safety record as a result."
We have many tools available to collect and make sense of data and optimise assets but interestingly, according to Emerson, those top performing companies have some strikingly similar behaviours in common. They have reliability-centric business processes in place. In other words a reliability culture. They maintain their assets with mixed therapies and techniques ranging from preventive (time-based), predictive (condition-based) to run-to-failure processes and strategies. They apply data analysis techniques whether applied in-house or contracted out, and technologies appropriate for condition monitoring.
They have embedded a culture of reliability from the highest echelons of management that permeates throughout the organisation, down to the person at the coal-face, they have cross-pollinated the very essence of what it means to be reliable, because if it's reliable – it is safe. Comparatively, Safety Cultures have been successfully embedded into most responsible organisations, irrespective of size, from micro companies to global enterprises and one thing is evident – all the employees are aware of safety and their role in safety expectations. No longer is safety just the domain and responsibility of the Safety Officer or Safety Manager – no, it is everyone's responsibility. These top performing companies have adopted the reliability culture in the same vane.
As Murray Cox of Emerson explains "everyone in the organisation understands their role and impact on reliability, the enormous financial and business advantage gained through performing in the top quartile. They understand the value of integration between departments (operations, maintenance, finance, IT, materials management etc) and the benefits of a coordinated focus on reliability performance. In these top performers, the days are gone when reliability was considered the sole responsibility of the maintenance manager."
More and more businesses are now realising the benefits of investing in people and processes that essentially apply responsible asset management principles, indeed ISO 55000 Asset Management is now the standard of choice with more companies looking to utilise this robust standard to improve their corporate bottom lines and to use it as a foundation for reliability transformation. Some organisations are adopting digital transformation in the hope their data will give out the secrets to profitability, safety, compliance etc…and although some succeed the vast majority are not. The answers lie in a reliability culture.
To start the path to reliability, organisations start small. This way, full control is attained with clearly defined goals measured against the business needs of the organisation. Essentially developing the culture in a logical controlled manner empowers the workforce to fully understand and appreciate the reasons why reliability plays a major part in their organisation and equally helps those digitally transforming to take advantage of the IIoT and other technologies such as Machine Learning etc.
With these considerations, businesses will be in far better positions to realise significant returns on their reliability and digital transformation investments.  Having the strategic plans in place will provide the leverage to drive broader adoption of new technologies in the IIoT for reliability improvements.
RELMAR provides Asset Management expertise in the Maritime and Oil and Gas industries. We can provide you the tools that empowers you on your journey to reliability or equally, we can undertake the processes ourselves on your behalf should you not have the resources available to commit to such imperative, strategic initiatives. Reach out to start the conversation at: