09 Nov

Kings of Offshore Gain Advantage

The Greatest (Maritime) Story Ever Told 

is unfolding before our eyes.

In the marine industry, change does not come easy. Yet, on the eve of the Smart Ship Era, two Kings of Industry have seen the light and have responded with a significant venture that will change the future of Asset Management at sea.

GE and Maersk Drilling are paving the way for the reliability of highly complex marine machines through the harnessing of dynamic digital data and powerful analytics. (Link to article – Click

here

)

What makes this initiative exciting is the strategic change in reliability and availability thinking. The future of Marine Asset performance will no longer be driven by arbitrary maintenance practices based on isolated failure modelling, but on continuous, experiential improvement of Failure Mode Models driven by on-site sensor feedback and machine/human learning.

This is tantamount to changing religion and challenges everything Mariners and Offshore Crew accept as gospel from Equipment Manufacturers and Class Societies alike, at least as far as maintenance goes. 

A kingly insight by RELMAR, made two years ago, predicted the future of Smart Ship maintenance resides in classic Reliability-centred Maintenance RCM. (Link to article – Click

here

)

But change brings both the birth of the new and the death of the old which the former must replace. The new kid on the block, (Marine-specific RCM as touted by RELMAR and termed MRCM) brings with it a change in dogma from an archaic,

pre-emptive maintenance methodology to a risk-based maintenance strategy which utilises proactive, predictive, preventive and reactive techniques.

RCM was developed by the civil aviation industry in response to changes in the equipment that it operates and the results of research into how the equipment fails with the following conclusions: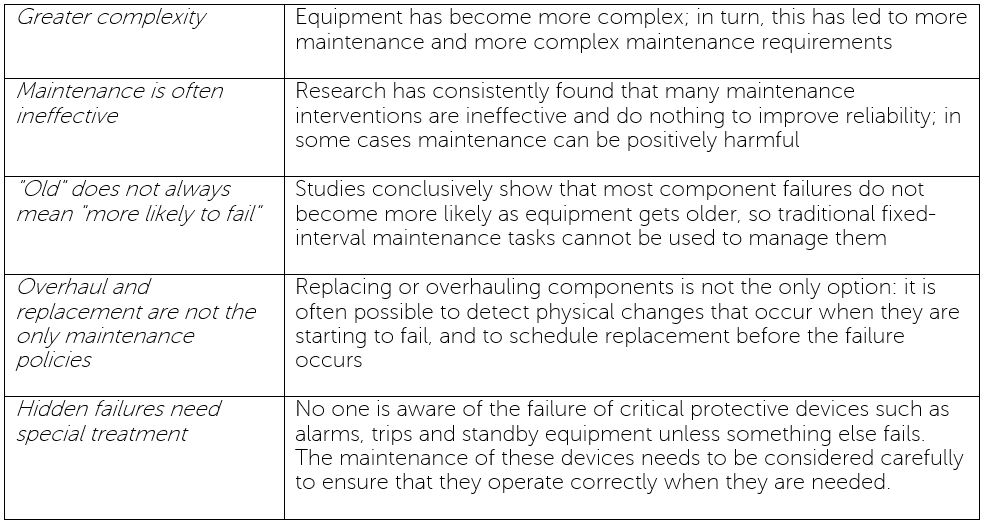 Over the past three decades, asset-intensive industries around the world have applied the same techniques to their own equipment. Experience has consistently shown the same results as in civil aviation: RCM maintenance schedules are safe, cost-effective, and they ensure maximum uptime at optimum cost.
Marine Reliability-centred Maintenance (MRCM)
Marine Reliability-centred Maintenance (MRCM) is an extension of RCM and delivers all the benefits of RCM and is carefully adapted to marine operations and maintenance. MRCM is fully compliant with SAE Standard JA-1011 for Reliability-centred Maintenance.
About Relmar Ltd
Relmar specialises in the application of reliability-centred techniques in the marine and offshore sectors. Our focus is on maritime safety, environmental integrity and return on investment.
We have experience both at sea and in consulting that enable us to solve the toughest of problems in practical ways. We understand the people and operating practices in the harshest and remotest of industry, traversing Earth's oceans and drilling on continental shelves.